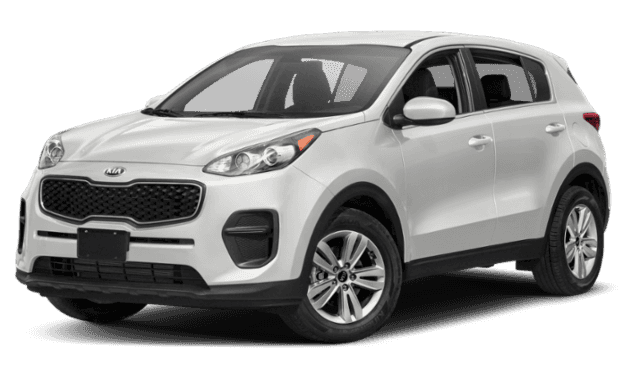 2019 Kia Sportage
2019 Toyota RAV4
2019 Kia Sportage vs. 2019 Toyota RAV4
If you're looking for a reliable crossover SUV in the New Rochelle and Mount Vernon area, you may find yourself stuck between the Kia Sportage and Toyota RAV4. While Kia vs. Toyota comparisons are not uncommon, only one of these crossovers offers customers a better starting price, strong performance, and a dependable warranty. Check out this crossover comparison to help you decide which one you should sport on White Plains roads.
2.0L DOHC 16-valve I-4 turbocharged engine
2.5L four-cylinder engine
Kia Sportage vs. Toyota RAV4: Price
One of the first things customers will look at when choosing their crossover is starting price. And, when comparing the Kia Sportage vs. Toyota RAV4, you'll quickly find that the Sportage offers a better starting MSRP than the RAV4. See how much you can expect to pay for the Kia Sportage and the Toyota RAV4.
2019 Kia Sportage: Offers an entry-level MSRP of $23,750.
2019 Toyota RAV4: Comes in with a base MSRP of $25,500.
Kia Sportage vs. Toyota RAV4: Performance
In any crossover SUV comparison, customers will want to take a closer look at performance and fuel economy. And, behind the wheel of the Kia Sportage you'll have a more powerful performance despite the fact that it offers a slightly smaller engine than the one featured in the RAV4. Along with great performance capabilities, you'll have access to even more power with the Kia Sportage towing capacity which reaches 2,000 pounds compared to the 1,240 pounds max towing capacity of the RAV4.
2019 Kia Sportage: Offers two strong engine choices, including the 2.0 liter DOHC 16-valve I-4 Turbocharged engine that delivers a maximum horsepower of 240 hp and a maximum torque of 260 lb-ft.
2019 Toyota RAV4: With just the one 2.5L 4-Cylinder engine, the RAV4 manages to only achieve a maximum horsepower of 203 hp and a maximum torque of 184 lb-ft.
Kia Sportage vs. Toyota RAV4: Warranty
No matter what kind of price or performance suits you, drivers want to ensure that their vehicle is protected whether they're driving around town or far away from home. If you select the Kia Sportage, you can rely on the Kia warranty to enable you to go further in your vehicle. Check out the coverage you can expect with both the Kia Sorento warranty and Toyota RAV4 warranty:
2019 Kia Sportage: The basic warranty includes protection for up to five years or 60,000 miles.
2019 Toyota RAV4: The basic warranty tops out after only three years or 36,000 miles.
Discover the Kia Sportage at Northeast Kia!
After checking out this crossover SUV comparison, we believe any Toyota vs. Kia comparisons can be put to rest since it's clear that the Sportage is the superior vehicle. Learn more about the Kia Sportage at Northeast Kia and browse our inventory of new Kia Sportage models for sale to find your favorite. You can even check out other Kia features like our Kia Optima vs. Hyundai Sonata comparison. Contact us today to get started on the car buying process with a member of our sales and finance team, or schedule a test drive near Greenwich!